Do you know what makes a bottle of coca-cola different from any other soft drink? Or why is an iPhone or Apple product considered better than a generic smartphone phone? The reason is Branding! From online branding to Ad films,  these companies have generated a user-friendly image that sustains their marketing strategy. 
A decade ago social media platforms like YouTube, Facebook and Instagram, gained popularity and became a hub for social media marketing. Initially, brands used cultural references and created ads that were broadcasted on mainstream media platforms. In the age of social media, the branding process has changed drastically, giving a rise to online branding and social media marketing. According to datareportal"4.76 billion social media users around the world in January 2023, equating to 59.4 percent of the total global population."
Whether you have started a new business or want to master the current social media marketing and branding strategy, use this guide to learn the importance of social media marketing in online branding and how branding in the age of social media works!   
How Does Branding In The Age Of Social Media Work? 
If you want to create a brand of your product, it is important that you focus on your audience, work on your USP and develop a creative perspective towards your products. However, using social media for business has its own pros and cons. For instance, online branding provides a massive audience willing to take everything you offer on social media, but the cancel culture has also been a big problem for established brands. 
Here are some points helpful for building a successful brand online.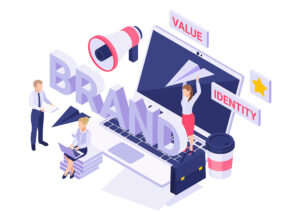 1- Build A Business Strategy
Whether you are working on online branding or using other methods for advertisements, make sure to build a business strategy that aligns with your goals. Social media marketing is the foremost step for lead generation, form your strategy around customer building and work accordingly. 
2- Select A Social Media Platform 
Before you waste your efforts on every social media platform, understand your product and connect to the audience from a platform that best suits your products. Suppose your products are ceiling fans and you start branding on Instagram and Pinterest, you would not receive a great response. You must use a social media platform that has your targeted audience, this way your branding would be more fruitful.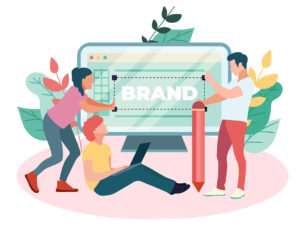 3- Work On Visual Branding
Social media and branding are all about visuals. Posting simple texts would not affect the audience and you could fail in creating an impact. Create a stand out logo, deploy a good graphic designer and communicate with your audience through visuals like banners, videos, advertisements, etc. A good colour tone and visual representation would attract more audiences. Remember to work on quality over quantity and be consistent with your work.
4- Learn About The Social Media Algorithm 
Unlike traditional media platforms, using social media for business can be a little more complex. Each social media platform works on its own algorithm. You have to understand the game and work on Ad centric posts. If required, you can take an expert's advice and learn how the trends change on social media. You must focus on an appropriate platform that caters for your audience. 
5- Stand Out From Rest 
In social media marketing, you use different branding methods to make your brand surpass the algorithm and access a vast audience. For this, you have to focus on giving a unique message through your posts. Social media is filled with a crowd and you have to work on your advertisements and posts in a way that your product looks interesting and people want to know more about it. Develop criteria and a voice for your company that stands out. If your way of branding is unique, your customers would automatically recognize your posts and products, developing your product into a well-recognized brand. 
Branding in the age of social media must stand out to make your product more attractive and appealing to the audience. 

How can we help?
Aadharshila is a premier Graphic Design Company in India, providing comprehensive branding solutions, exceptional video production services, social media marketing services, and PPC management services. With expertise in packaging design, brochure design, and logo design, we are dedicated to delivering top-notch creative solutions that elevate your brand's presence. As a leading Corporate Video Production Company in India, we specialize in producing captivating videos that effectively communicate your message. Additionally, our social media marketing services are designed to enhance your brand's visibility and engagement across various social media platforms. We employ strategic techniques to maximize your online presence and reach your target audience effectively. Furthermore, our PPC management services ensure that your brand receives optimal visibility through paid advertising campaigns. We handle the entire process, from keyword research and ad creation to monitoring and optimization, to ensure the best return on investment for your PPC campaigns. Serving clients across India, including Ahmedabad, Vadodara, and Surat, we take pride in our ability to cater to diverse geographical locations while maintaining the highest standards of quality and customer satisfaction. Partner with Aadharshila today and unlock the full potential of your brand with our exceptional services.